About Indian Leather Industry
The Leather Goods Industry holds a prominent place in the Indian economy. This sector is known for its consistency in high export earnings and it is among the top ten foreign exchange earners for the Country.
The export of footwear, leather and leather products from India reached a value of US$ 5.74 billion during 2017-18.
The leather industry is bestowed with an affluence of raw materials as India is endowed with 20% of world cattle & buffalo and 11% of world goat & sheep population. Added to this are the strengths of skilled manpower, innovative technology, increasing industry compliance to international environmental standards, and the dedicated support of the allied industries.
The leather industry is an employment intensive sector, providing job to about 4.42 million people, mostly from the weaker sections of the society. Women employment is predominant in leather products sector with about 30% share.
India is the second largest producer of footwear and leather garments in the world.
India is the second largest exporter of leather garments and third largest exporter of Saddlery & Harness in the world.

The major production centers for footwear, leather and leather products in India are located in the States of …
Tamil Nadu– Chennai, Ambur, Ranipet, Vaniyambadi, Vellore, Pernambut, Trichy, Dindigul and Erode ;
West Bengal – Kolkata ; Uttar Pradesh – Kanpur, Agra, Noida, Saharanpur;
Maharashtra – Mumbai ;
Punjab – Jalandhar ;
Karnataka – Bengaluru ;
Telengana Hyderabad ;
Haryana – Ambala, Gurgaon, Panchkula, Karnal and Faridabad;
Delhi; Madhya Pradesh – Dewas ;
Kerala – Kozhikode and Ernakulam / Cochin ;
Rajasthan; Jaipur ;
Jammu & Kashmir; Srinagar.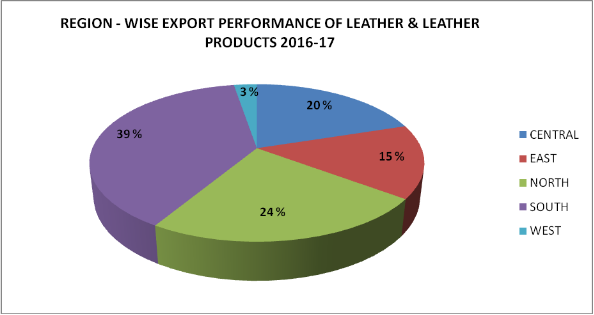 Strengths Of Indian Leather Sector
Own raw material source – About 3 billion sq ft of leather produced annually
Some varieties of goat /calf/sheep skins command premium position
Strong and eco-sustainable tanning base
Modernized manufacturing units
Trained / skilled manpower at competitive wage levels
World-class institutional support for Design & Product Development, HRD, and R & D.
Presence of support industries like leather chemicals and finishing auxiliaries
Presence in major markets – Long Europe experience
Strategic location in the Asian landmass
Emerging Strengths
Design development initiatives by institutions and individuals
Continuous modernization and technology up-gradation
Economic size of manufacturing units
Constant human resource development program to enhance productivity
Increasing the use of quality components
Shorter prototype development time
Delivery compliance
The growing domestic market for footwear and leather articles
Highlights Of Leather Product Segments:
Tanning Sector –Annual production of about 3 billion sq.ft. Accounts for 10% of world leather requirements. Indian colors continuously being selected at the MOD-EUROPE Congress
Footwear Sector– The second largest footwear producer after China. Annual Production 2257 million pairs. Huge domestic retail market; 2021 million pairs are sold in the domestic market. Footwear (leather and non-leather) export accounts for about 43.5% share in India's total leather & leather products export. The Footwear products mix; Gents 58%, Ladies 30 %, Children 9% and others 3%
Leather Garments Sector – Second largest producer and second largest global exporter. Accounts for a 9 % share of India's total export from the leather sector.
Leather Goods & Accessories Sector Including Saddlery & Harness– Fifth largest global exporter. Accounts for about 24% share of India's total export.
Major Markets:
The major markets for Indian Leather & Leather Products are USA with a share of 14.76%, Germany 11.92%, UK 10.74%, Italy 6.78%,France 5.69% Spain 4.90%,Hong Kong 4.32%, Netherlands 3.43%,China 2.97%, UAE 2.81%, and Poland 2.52%.
These 11 countries together account for nearly 71% of India's total leather & leather products export.
Leather goods are broadly classified into three groups, small leather goods or personal leather goods; medium leather goods; heavy leather goods/luggage goods.
A. Small leather goods:
Small leather goods are usually carried in pockets. Small leather goods are generally made from cow-calf, buff calf, goat, sheep, pig and exotic skins with different finishes. The thickness of leather required for making small leather goods is about 0.7 to 0.9mm. e.g. coin purse, coin pouch, key case, wallet, spectacle case, passport case, watch strap, etc.
B. Medium leather goods:
Medium leather goods are generally made from cowhides with different finishes. The thickness required for making the medium type of leather goods is about 0.9 mm to 1.1 mm. e.g. under-arm case, wrist bag, zip folio bag, medium school bag, shopping bag, shaving kit, gents shoulder bag, etc.
C. Heavy leather luggage goods:
Heavy leather goods are generally made from buff and cow uppers and softy uppers with different finishes. The thickness required for making heavy/ luggage leather goods is about 1.2 mm to 1.6 mm. e.g. portfolio bag, medical representative bag, briefcase, travel bag, travel suitcase, etc.
Now we discuss how the production house of export base company works. More or less the following sequence is followed for all types leather goods making.
Sequence of operations:
Designing & Pattern Making , Demo Making
Material Selection for the sample.
Material sourcing.
Sample Development
Costing
Sample Presentation
Sample Dispatch – along with Pictorial Documentation For Company use.
Sample Approval.
Order Received.
Bill of material Listing to help purchase.
Purchase of raw material.
Production Pattern & Cutting Pattern Preparation
Cutting Knives Received
Leather & Re-inforcement (Backing) component cut
Pre- Production Meeting
Cutting Leather & Material issued along with necessary
Trial Run/Pilot Run
Final production process flow sheet development
Production
Quality Control
Primary Packing.
Cleaning & Checking.
Final Checking & Packing
Packing List & Invoice Preparation.
Cartooning.
Shipment
1. Designing and Pattern Making:
It is done in two ways. Either buyer sends design ideas or designer make a sample design on the basis of the current trend.
1.1.Buyer Sends Design Ideas:
Buyers make their own design on the basis of current trend or mood board development or follow the latest magazine and select some bag pictures as per their brand requirement.
Some time they also send some design ideas to the exporter like us to develop sample as per their specification.
1.2. Designer make a sample: At this time we have to do custom researches for new designs. we need to know the buyer taste, and you should always keep yourself updated about the current or upcoming trends. In this time you can follow the buyer's website to know their taste. Previous buyer older helps the designer to know the buyer liking and preference. From those points, we can develop a mood board which helps us to design the product.
So let's see what is mood board.
Moodboard is a great reference to know the mood and mood of others. It helps you to visually communicate your ideas and allow you to collate all your inspiration together in one place. There are no particular rules for creating mood boards but it is mainly based on certain points where you can give stress. Always keep in mind that it should convey your inspiration, theme, color and motif direction.
If you are working for a foreign client then a mood board allows them to get a sense of your design direction so you can understand if you are on the right track or not. Some times clients are getting confused about his choice so moodboard saves time to identify if you know whether your direction at this beginning stage is right or wrong. If you're in the wrong way, at least you haven't spent a lot of time developing ideas that your client won't like.

For those who set their own target in briefs, mood boards allow you to formulate a clear direction for them as a starting point for creating your designs for them.

Now see the basic steps to create a mood board for any design. Or what to include in the moodboard. You can create your mood board in Pinterest, Illustrator or Photoshop if you have the digital skills but if not, mood boards can be created just as beautifully by hand as per your creative idea.
1.2.1. Inspirational images
They could be photos that you've taken, magazine images or images from books.
1.2.2. Colors: Your mood board should show a strong sense of the color palette you intend to use. This could be shown through just the images you choose or you could include color chips also. Here we can choose a color from Pantone shade card as per your inspiration.
1.2.3. Motifs: You should include images or reference material that show what sort of motifs, design ideas, and themes you will be using e.g. if it's a geometric design you will show some geometric elements.
What to consider when creating your mood board:
Orientation: You could create a vertical or horizontal mood board. This will depend on the images that you choose and what you feel best conveys your ideas.
Positive and negative space: It's important to consider not only the images or items you are displaying on your mood board but also the background space. Depending on the look you are after, leaving some background areas without images on your mood board can give it some breathing space
Focal Point: Having a focal point on your mood board is important. This can be created through image size or color. It's important for the eye to be able to initially focus on one element and then be lead around the board. If there is no focal point, your mood board will appear cluttered and will make it harder for the viewer to coherently look at your images.

Balance: Make sure all elements on your mood board are balanced. Think about how color, shape, and size all work together. For example, you don't want all the decorative and colorful items on one side of your board and on the other side have only plain, simple items. Also, keep in mind that heavier items always look better when they're placed at the bottom of the board. It makes the mood board feel grounded.

Theme: Your theme, color and motif direction should be clear. Anyone looking at your mood board should have a good sense of what design direction you are heading. If your theme is pretty, pink florals then it wouldn't make sense to have strong, graphic geometrics. For theme follow the website different renowned fashion week, Milan Fashion Week, Paris Fashion Week, London Fashion Week, etc.
Sizing: Then look for perfect sizes and shapes with the popular styles and with the discussion with pattern master. After confirming the shape and sizes come up with some new and useful design elements. Then design the inside structure of the bag as per mutual discussion. For beginner follow these sites for size, Gucci Handbags, PRADA – OFFICIAL WEBSITE
Sketching: Sketch design. While sketching you need to remember the product should be saleable according to my design. At this time, the designer can consult with the head pattern master for changes. For different sketches, you can follow Pinterest.
Develop Pattern: Follow the instructions of the pattern master will develop the pattern. Develop a demo. And he sends the demo to the merchandising section to check whether the design is in line or not? Then he rectifies the pattern as per instruction of merchandiser and designer/ And develops a rectified demo. After confirming the demo he finally makes a rectified pattern.
2. Material Selection:
Select the proper leather, lining, reinforcement, accessories, threads, branding for the bag. Then get the style no from the merchandiser. Then place the work-order for material for sample making. Do regular follow up with the sample team to make sure your sample gets ready as per designer specification within the given time.
3. Material Sourcing:
Then Sample materials are sourced from different buyers to make the sample.
4. Sample Development/Making:
From those materials and patterns, the sample is made with the consultation with the designer. And it is sent to the merchandiser for approval.
5. Costing:
After getting approval, then it is sent the product to the costing department with the sample pattern. and follow up with the costing team to get the price of the bag.
6.PRESENTATION:
The presentation is also a part of our R&D team. We present the samples to our respective buyers. Presentation is a very challenging and creative part. We go through the following steps: –
6.1. Photoshoot: It is the primary stage of making presentations. We click photos of the samples from every possible angle to make the bag look good. We focus on the clarity of the bag while We use NIKON D700 camera for photo shooting so that the design elements are visible to the buyers.
6.2. Editing – Next come to the editing part. We edit the clicked photos to adjust colors, brightness, shape, size, and also cut the background to put it in a ppt with any background.
ADOBE PHOTOSHOP is used for editing purposes.
Templates. Templates are used as backgrounds to enhance the look of the bag.
Fonts – We search for clean and stylish fonts to name the ranges of the bags in the ppt.
7. Sample Dispatch :
When the presentation is ready we sent it to the buyers, sometimes along with the original samples and with Pictorial documentation For Company use.
8. Sample Approval:
In this context, the buyer either approves the sample or sends some modification note. After checking the modification note merchandiser send it to the sample department to modify it and it sends it to the costing dept to re-cost it and after costing send it to the buyer for approval with proper packing and pictorial documentation.
9. Order Received:
After getting the sample buyer either approve it or negotiate with merchandiser for price after that they confirm the order. For knowing the details export procedure click here.
10. Bill of material Listing to help purchase:
Then the sample coordinator makes a list of material to store after knowing the consumption from the casting dept. The store makes a bill of material as per consumption and purchases order is issued to local and international vendors who supplied the material at the time of making the sample.
11. Purchase of raw material:
The leather requisition is sent to the tannery, Whereas lining reinforcement and fitting, materials are sent to their respective vendors. They are asked to supply the material within three weeks of issuing orders.
12. Production Pattern & Cutting Pattern Preparation:
The sample dept also makes a production pattern and specification sheet. When the order is received, patterns and specification sheets are handed over to the production dept with style number and other code. On the basis of pattern and specification sheet production engineering dept send the order to dies-maker to make die within two weeks.
13. Cutting Knives Received:
Then cutting pattern sheet and dies are received, Production engineering dept received it after matching them thoroughly with original patterns.
14. Leather & Re-inforcement (Backing) component cut.
Then leather and reinforcement are cut.
15. Pre- Production Meeting.
Pre-production Meeting is a very common word in the leather goods industry but only a few people can realize its importance. Sometimes people do it only to follow a system in the company. If a Pre-production Meeting goes properly with all of the requirements surely everyone will feel happy as soon bulk is finished. No one will have the opportunity to blame others if the error goes during bulk production because things are discussed with everyone. So keeping minutes of pre-production meeting is compulsory in all considerations. Generally, the Pre-production meeting should take place approximately 2 weeks after approval of the Pre-production sample.
15.1. Minutes of the pre-production meeting:
Minutes are an instant written record of a meeting or hearing. Typically describe the events of the meeting, starting with attendance, a statement of the issues considered by the participants, and related responses or decisions for the issues. People from production actually unaware of how the final product comes through all the sampling & approvals. For this reason, it is important to give all the relevant information to whoever involved in product making so that any kind of error may not happen & the production process goes smoothly.
PP meeting achieves following things in short:
Everyone understands about production process.
Misunderstanding on product or any other issue can be clarified.
Critical path is communicated and explained.
Liaison between buying & factory people.
Group discussion.
Strong relationship can be built up.
PP meeting usually held either in factory or in buying house & some time in both. The criteria of meeting is little different for both as stated below.
15.2. Place of pre- production meeting:
15.2.1. At Buying office:
The person who attend in the meeting:
Buyer merchandiser.
Buyer QC who is going to take care of the file.
Buyer technical team
15.2.2. At supplier office/factory:
The person who attends the meeting:
Buyer QC
Supplier merchandiser.
Supplier technologist.
Factory Manager.
Cutting in-charge.
Sewing in-charge.
Finishing in-charge.
15.3. Items required for PP meeting
Effective PP Meeting depends on some particular materials that should not be missing.
15.3.1. Production file
In a production file usually, the following items are important to keep.
Sample comment.
Approved sample
Test report.
Size and quality breakdown /PO Sheet
Approved trims.
Tech pack /Style details.
15.3.2. Trim card / Production swatch board:
It is the material representation of the goods that are required to be made. In a complete Leather bag, some materials are visible & some are hidden. For example, a button is visible but elastic or fusing is not visible but the material should be kept for PP meeting. Only a trim card can present everything all together. It helps to avoid confusion if all the materials are not used on the PP sample.
15.4. Special points to review in meeting
Production schedule.

When to start production.
How many lines.
How many machines.
In-line inspection date.
Pre-final inspection date.
Final inspection date.
The stock position of raw materials.
The stock position Accessories /fittings.
Pattern and marking review.
Finishing & Packing process.

What size poly-bag and box to use for which bag sizes

Position of the label in a polybag
whether fungus removing strip is required or not
What size of silicon gel packet is required for which size box
15.5. Meeting Paperwork & check list:
During PP meeting buying QC must review the checklist.
Write down additional comments and actions agreed.
Signature.
16. Cutting leather & other material issued for Trial Run along with necessary instructions.
For a trial run process, materials are cut and issued to the operator as per instruction summary of the pre-production meeting.
17. Trial run/ Pilot Run:
It is essential for bulk order. A pilot run is done after approval of pre-production and before bulk cutting. The pilot runs for a style (order) is conducted if the buyer asked for it. Many leather goods manufacturers set the trial-run as standard procedure. In those companies, the Pilot run is a must for all styles irrespective of buyer requirement. For a 5000 piece wallet order, the trial run can be done on a 100-200 piece wallet per style. Normally Leather Goods manufacturers don't perform pilot run for small orders.

Purpose: Purpose of the trial run is to check production techniques and quality requirement. Trial run pieces are thoroughly checked by the factory quality department at every stage of production. Based on the trial run result bulk production is planned. Through the trial run process, the production team learns about the critical operations in the styles, identifies potential bottleneck operations. Based on their learning in the trial production run, they prepare themselves for bulk production.
Important points of trial run:
Trial must be processed in the production line instead of a sampling section
All sizes and all colors are included in the pilot quantity (factory may cut jump sizes instead of all sizes).
If the trial run is requested by the buyer, quality of the trial run pieces may be checked by buyer QA
Trial run pieces are included in bulk quantity in finishing and are sent with the shipment (if there should be no variation with the buyer quality specification)
18. Final production process flow sheet is developed
For knowing the details process flow sheet of ladies parts click here1, Click here 2.
19. Production:
Then cut leather, lining, and other necessary materials are distributed to with proper instruction to the production team. Thereafter they started working under the supervision of the section in-charge or production supervisor.
20. Quality Control
The details of final quality checking are given below:
20.1. About the leather checking: Leather is the main factor of the item. This is the whole thing about the item. Always you have to see the leather carefully. If you find any issue with leather. So you just have to decide what to do with this item. After finishing the product, many leather issues come out in the checking. Like Pox mark, tick mark, Leather looseness, grain mismatch Leather Scratch, Dye patch, etc. In this type of problem, some are gone by several processes. So you have to know the correct way to solve the actual problem. A leather issue comes, doesn't means that the item was rejected. You have to choose a solution to overcome the problem. For knowing the details of leather defects, click here.
20.2. About The Lining checking: In the time of checking we find many problems with the lining. Especially in the case of imported lining for our buyers which is printed by his companies name or logo, the lining setting is wrong by karigars, they did not recognize which is front and which is back. For details, fabric defects click here.
20.3. The shape of the Product: The shape of the Product is a big Quality issue. That why a better shape of the bag is very important to us. If the shape is not good then the item is a low-quality product, and it was not going on in the market. For the better shape, you have to give the perfect backing materials.
20.4. Drop length: Buyers always check the drop length. So it is also a big factor. Designers have to give the perfect drop length on the purpose of the bag. A better drop length increases the Quality of the Bag.
20.5. Fittings: while you do checking, fittings are important to check carefully. Because if any issue or problem with fittings comes then the whole bag is rejected or repairing. No one can pass the product with fittings problems to go to the buyer. At first, when the problem comes you have to repair or reject. Fittings problem come then the whole bag is rejected or repairing. No one can pass the product are many types a scratch, lacker, not fixing properly, etc. For details click here.
20.6. Edging: It is mainly done on raw. This operation is not given properly, or many times the ink is across on the leather, it is hard to remove, sometimes we reject for this reason many leather parts. edges item of the leather to do the better quality. Sometimes in
20.7. Trimming: Trimmings is done by carefully. If in the time of trimming any lather part is cut then the item is rejected to change. So you have to check carefully where trimming is done.
20.8. Edge Colouring: It is done only or cleaner who passes it without de this operation. Not see the raw edges of the leather. You have to back the final checker.
20.9. Stitching: Stitching is a vital case to enhance quality. Any little thing with stitching is wrong. Then it is rejected to repair. In the time of stitching, there have many problems is come out. The correct thread, the quality of the stitching, all you have to check.
21. Primary Packing.
After complete making production department put some filling material into the bag to retain its shape and pack it temporarily.
22. Cleaning & Checking:
Here we use white petrol to remove dirt and use adhesive cleaning machine.
23. Final Checking & Packing.
24. Packing List & Invoice Preparation.
Although the packing list means the details of packing, most of the details of invoice also must be mentioned as per the specified format.
24.1. Exporter /Consigner: The details of the party who consigned the goods are mentioned in this column. The name and complete address of consignor to be mentioned with Country name.
24.2. Consignee: The details of the party to whom the consignment is shipped out to be mentioned. Normally, the details of the overseas buyer are mentioned. In some cases, when a Letter of credit involves, the bank name is mentioned as consignee starting with "To the order of…" If the cargo is re-sold at the destination to a third party, said column can be mentioned as "To Order"
24.3. Buyer: In some cases, the consignee may not be the actual buyer. Then the details of the buyer other than the consignee are mentioned.
24.4. Invoice Number and date: This number is the serial number of sale transactions used by a seller. This reference number is quoted on many occasions including authorities to identify the consignment for future reference. This is the reference number against the said sale used internally by the buyer in all future reference and files in the office also.
24.5. Buyer's order number and date: The purchase order number of overseas buyers is mentioned here. If the shipment is under the Letter of credit, the LC number and date are mentioned.
24.6. Other references if any: You can mention any other reference number to be declared in related to the said shipment or common.
24.7. Country of Origin: The country of goods originally manufactured to be mentioned in this column. In some of the cases, the goods are imported to a country and the same goods are exported after re-packed and re-balled. It happens in triangular shipments also. Read more about 'triangular shipment' in my previous article.
24.8. Country of final destination: This is the country where the goods are finally reached.
24.9. Vessel / Flight: The name of the vessel or flight if available. You can also mention the planning vessel or planning flight name. While mentioning vessel name, always write a voyage number.
24.10. 'Pre carriage by': The term "Pre carriage by" means, the mode of movement of cargo to the port of loading by the shipper. The Pre carriage can be 'By road', 'By Rail' 'By air' or 'By the sea'.
24.11. Place of Receipt: Place of receipt of goods by the carrier after completing export customs procedures. If you (exporter) are situated far from the load port, the cargo can be customs cleared at the nearest Container Freight station and move to the port of loading. If you are completing customs procedures near the load port, the column 'place of receipt' and 'port of loading' will be the same.
24.12. 'Port of Loading' You can mention the port of loading of goods. It can be an airport or seaport.
24.13. Port of Discharge: This is the port where your goods are unloaded from the aircraft or ship to deliver to the buyer's place.
24.14. Place of Delivery: If your buyer is located far from the port of discharge and he needs to get the goods near to customs supervised warehouse (Container freight station CFS), the Bill of Lading issued at the port of loading has to be mentioned the said place of delivery.
24.15. Terms of Delivery & Terms of Payment: As I have explained in previous articles, the terms of delivery like EX-WORKS, FOB, C&F, C&I, CIF, etc. as agreed both you and your buyer. Terms of Payment also as explained earlier like LC etc.
24.16. Marks and number: The details of 'marking' you have done on parcels to be exported. Also, the number mentioned on the parcel.
24.17. Number and kind of packages: In this column, you need to mention the total number of packages in the said particular shipment.
24.18. Description of Goods: The Description details of goods are mentioned in this column. Also be alerted that if the shipment is under Letter of Credit, the words mentioned on LC to be matched exactly with your words in documents.
24.19. Remarks
24.20. Dimension
24.21. Net weight
24.22. Gross weight
24.23. Declaration: While declaring and signing the invoice means, you are stating all information given in the packing list is true.
24.24. Authorized signatory, rubber stamp and Date: Means, the person signs on invoice with the rubber stamp of the firm.
For knowing the export procedure click here.
25. Cartooning.
25.1.The following information are generally written on catoon after packing
P/O No:
Style No: O
Color: y
Size: and Quantity:
Carton No:
Destination: U.K
Made in India
Gross Wt: 19KgNet wt: X Kg
Carton Measurement: 60 × 40 × 40 etc
25.2. Material used for cartooning are:
25.2.1. BOPP Tapes
25.2.2. Corrugated Boxes & Cartons
Packaging can be made of wood, plastic, metals, glass, paper, laminates, polyester, etc. But today different natural materials are used for packaging purposes like baskets of reeds, wooden boxes, wooden barrels, woven fabrics, etc.
25.3.Functions of packing:
The packaging is the last stage of the leather goods manufacturing process. Perfect packaging is an important part of any product that helps to receive customer attention. Some essential packaging functions are the following:
25.3.1 Protection:
The main function of packaging usually involves protecting the products from any environmental hazards and others. It helps to protect the goods from loss, damage, and stealing. During transport, handling and storage operations different types of protections are needed. They are two types like Physical and Barrier protection.
25.3.2.1. Physical Protection: Physical protection from vibration, mechanical shock, electrostatic discharge compression, climatic conditions, temperature, etc..
25.3.2.2. Barrier: A barrier from humidity, precipitation and solar radiation, oxygen water vapor, dust, etc.,
25.3.2. Storage: Packaging products must be stored in many different locations. So, to fill up this storage function all the packaging materials and packaging containers are should be checked before packaging the product or garment.
25.3.3. Loading and transport: During the loading and transportation, time packaging products may be lifted, moved, set down and store in a warehouse manually or mechanically. To complete this process easily, efficiently and safely the perfect external shape and strength of the packages should be required.
25.3.4. Promotional function:
The packaging is an important promotional function to attract the customer's and buyers attention and to have a positive impact on the purchasing decision.
25.3.5. Sales:
It helps to promote the sales process and to make it more feasible.
25.3.6. Information transmission:
Packages and labels give detail information about the product like how to use, ingredients, transport, nature, composition, weight, quantity, storage, recycle or dispose of the package or product.
25.3.7. Security:
Packaging can play an important role in reducing the security risks of shipment.
26. Shipment.
For knowing the details of export procedure click here.
Reference:
Seminar notes presented by Mr. Animesh Roy, GM Balaji Exports.
Industry Visit at Toreo International guided by Mr. Gour Dey, Senior Manager.
Final Training Report presented by Mr. Suvam Das, Mr. Pritam Majumder, Mr. Budhaditya Sarkar, Miss. Tania Paul, Md. Sahid
Council of leather export (CLE) website
Please share your feedback and suggestions. In case if you have any queries about any topic of Footwear and Leather Goods, post it in the comment section. And if you like this topic you may share it on facebook, twitter or any social site. Thank you.